A Plague Tale : Innocence
Preorder Now!
You will recieve your key when the game launches on the 31/02/2015 at 0:00.
NOTE : Un compte Steam et une connexion internet sont nécessaires pour activer, télécharger et utiliser ce produit.
Offre de précommande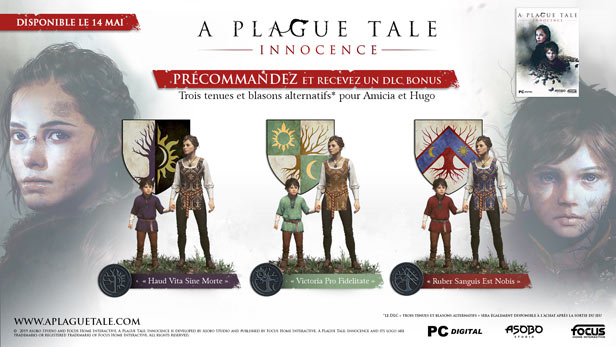 Précommandez maintenant et obtenez trois tenues et armoiries alternatives.
À propos du jeu
Vivez le récit déchirant d'Amicia et de son petit frère Hugo, livrés à eux-mêmes au cœur des heures les plus sombres de l'Histoire. Pourchassés par l'Inquisition et cernés par l'avancée inexorable des hordes de rats, Amicia et Hugo vont devoir apprendre à se connaître et à compter l'un sur l'autre. Submergés par l'adversité, ils devront lutter pour survivre et trouver leur rôle dans ce monde brutal et impitoyable
© 2018 Asobo Studio and Focus Home Interactive. A Plague Tale: Innocence is developed by Asobo Studio and published by Focus Home Interactive. A Plague Tale: Innocence and its logo are trademarks or registered trademarks of Focus Home Interactive. All rights reserved.
Langue:

français

Catégorie:

Plateforme:

Nombre de joueurs:

1

Date de sortie:

14/05/2019

Editeur